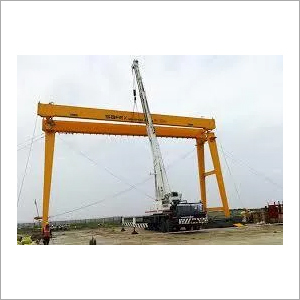 Product Description
Since our inception, we are committed to manufacture, export and supply a superlative range of best quality Gantry Cranes. Cranes offered by us are made available to the customers as per their given specifications. We also make sure to use best quality material for manufacturing these cranes. In addition to this, we make sure that our offered cranes are quality approved at various levels of manufacturing. Additionally, our offered Gantry Cranes are known for the following quality features:

Robust built
Easy to operate
Used in various industries
Better life
Other Details:

Gantry Cranes

We offer a spectrum of Goliath & Gantry Cranes for various industrial purposes. Using latest technology and machines, we manufacture these cranes in conformation with IS: 3177 and IS: 4137. The various components and robust built of these cranes are as per the recommendations of IS: 807. Apart from these, our products are also in sync with various international standards. These cranes are easy to operate and ideal for handling various types of industrial material. Our range finds application in handling material for different industries like construction, industry, yards, road sides and others.
The noticeable features are as follows:
Safex cranes have minimum maintenance and emergency interlude
The structural built of these cranes are in conformation with ISO 4301
Limit-switches are easily adjustable
Load tested to 125% and certified by us after performing on these in our own workshops
The specifications are as follows:
Safe Working Load: 1000 kgs. to 60,000 kgs.
Height of Lift: As per customer specifications
Class of Duty / Standards: Equivalent to M3,M5, M7, M8 as per IS 3177 / IS 807
Speeds: Selected depending on client specifications / applications / shed dimensions
Crane Control: From floor through pendant push buttons, optionally through radio remote control / cabin with master control
Drive System: Twin drive through squirrel cage induction geared motors with built-in fail safe brakes
Motors: Squirrel cage induction hoisting motors with built-in fail safe brakes for hoisting, cross travel as well as long travel. Insulation class for all types of motors B/F
Brakes: Built-in Brakes for hoisting, cross travel and long travel motions Power Supply System: To hoist and cross travel through trailing cables / drag chain to crane through shrouded bus bars / trailing cable / MS angle iron conductors / bare copper conductors (depending on customer's choice and application)